How to Tell if a Product is Truly Healthy
We've all been there. You ask for a recommendation on Facebook for a laundry soap or deodorant or all-purpose cleaner, and you get bombarded with responses.
On the surface, this is great, right? I mean, not that long ago you'd have maybe 2 options - if you were lucky. But with so many products out there claiming various levels of healthy, natural, green, etc… how do you know which ones really are as great as they say?
I'm here to help you understand what to look for when it comes to healthy, green personal care and cleaning products so you can navigate product recommendations from other people with more ease.
But first: Don't all products on store shelves have to be safe?
This is a common myth and one I'm going to break down for you. In Canada and the US, products aren't fully tested before put on store shelves. This is called a "post-market regulatory system" – where it's really up to the public and public interest groups to raise flags about products after they've already been sold.
Possibly even more surprisingly, if a product is found to be harmful or poses a risk, government health agencies do not have the legal authority to force a product recall. This means by the time a product or ingredient is found to be a health hazard, it's likely already been in use for months, years, or even decades (like talc used in baby powder). So while most products on store shelves won't cause immediate and noticeable harm, this by no means suggests they're safe.
The impact of low dose exposure to certain chemicals commonly found in personal care and cleaning products is becoming increasing clear through the scientific literature. Hormone disruptors in household products – like parabens and phthalates – are linked with early puberty in girls, obesity, infertility, and more.
Common ingredients in cleaning products are linked with asthma, allergies, and delayed sensitization (meaning they can cause allergic reactions where none existed previously). Unfortunately, regulations in North America haven't kept up to this science so we continue to be exposed to these chemicals in our every day products.
How to choose healthy products
Now that you know how important it is to choose products that are healthy, let's look at how to do that. Now, it might seem easy to find green products just by looking at the packaging or asking other healthy moms.
Unfortunately, labelling laws in North America do not have definitions or guidelines for claims like "natural", "plant-based", "non-toxic", and in some cases even "organic". And not everyone has the same goals or understanding as you.
Because the demand for healthy and green products is increasing so quickly, brands are also quick to jump on the bandwagon. When a brand makes eco-friendly or healthy claims that are false or exaggerated, this is called greenwashing or healthwashing. And it's more common than you might think!
I also want to note that "all-natural" doesn't necessarily mean it's healthy. Certain essential oils for example shouldn't be used around children and pets. And asbestos is natural, but it's also a known carcinogen (and has been found in make-up products marketed towards children I might add). Similarly, chemicals aren't all toxic. Every type of matter is a chemical, so saying "chemical-free" is impossible. What most people are actually worried about are "synthetic chemicals." And while many of the biggest ingredients of concern are synthetics, many are also considered safe and indeed are necessary in certain cases.
So, to really know if a product is as healthy as it claims to be, you have to learn how to read labels effectively. Like any skill, it takes a bit of work up front but once you master it you will be able to spot greenwashing from a mile away and save yourself time and money while switching to truly healthy products.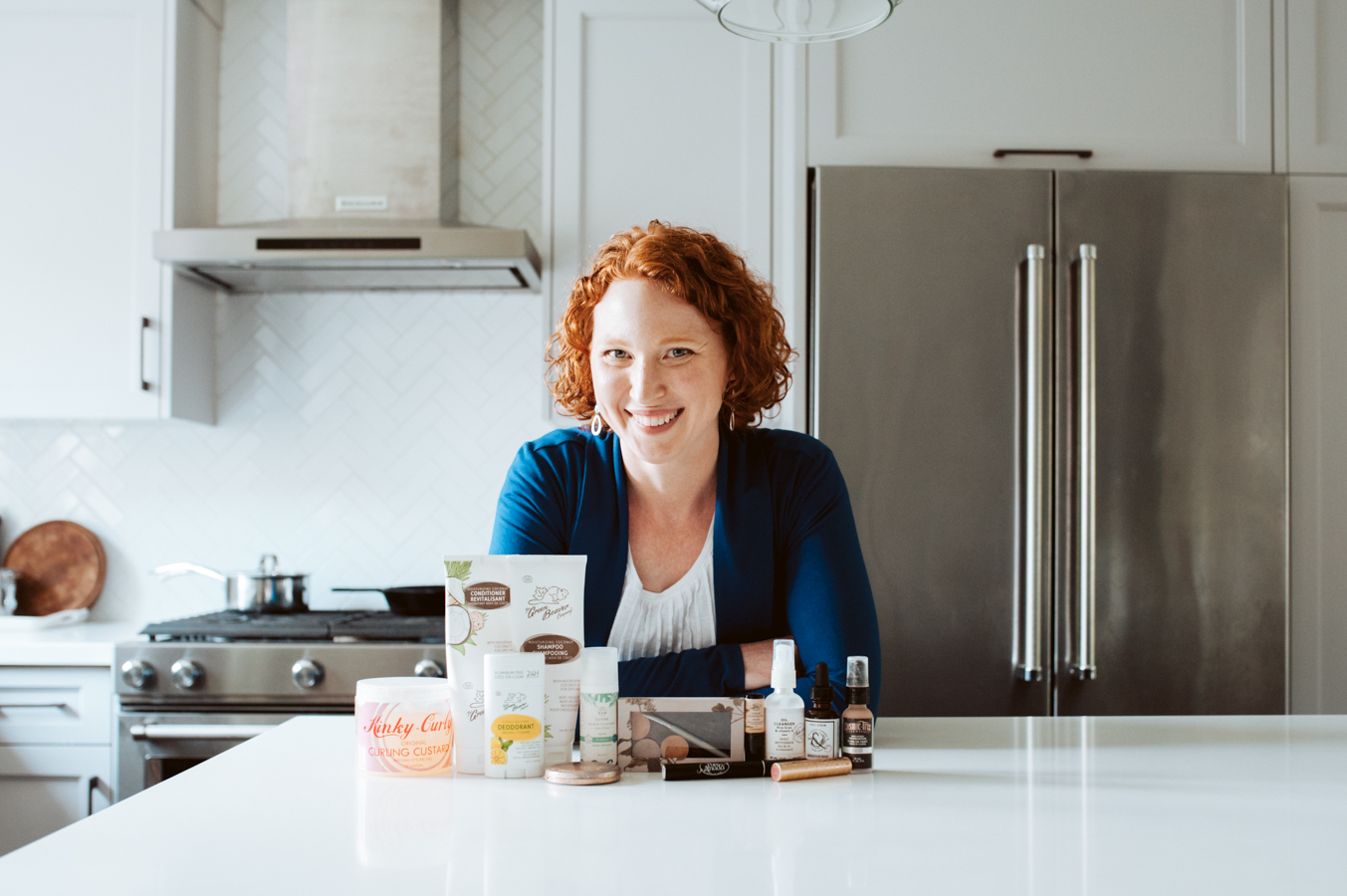 Here are my top tips to help you figure out if a product is healthy, green, or natural.
1. Ignore what's on the front of the package.
Many mainstream, conventional brands put green leaves and safe-sounding words on their packaging. Another tactic is to include a long list of things not in the product, and make claims like "dermatologist approved". But when you actually read the ingredients, you'll find synthetic fragrance, petroleum products, skin sensitizers, and hormone disruptors. Or at the very least, a bunch of ingredients you don't understand. Which leads me to the next step…
2. Learn how to read ingredients.
There really is no way you can tell if a product is healthy without reading the ingredients and knowing what you're looking for. Personal Care products must disclose ingredients on the label (with the exception of what's in fragrance). Cleaning products however are not required to. Look for brands that have full ingredient lists on their packaging or websites – with the actual ingredient, not just generic descriptions like "surfactant".A lot of people will use rules like "if I don't understand it, I don't buy it." But some words are easy to read (parabens) that should be avoided. And other words are hard to pronounce (like the Latin forms of natural ingredients) that are perfectly safe.
To help you out, I've created this free label-reading training so you can become a ninja at choosing healthy ingredients and use label-reading tools like Think Dirty and EWG properly (because it's not just as simple as looking at the overall score).
The Bottom Line
It is important to understand what's in the products you use on your body and in your home every day. The science is clear that the amount of toxins that our children especially are exposed to is contributing to long-term chronic illness.
You're never going to be able to avoid all harmful or potentially harmful chemicals, and that shouldn't be your goal. But avoiding the worst offenders in the personal care and cleaning products you use on a regular basis can go a long way to lowering your whole family's overall toxic load. And this is one of the best ways you can help your bodies cope with the toxins you can't control.
To save time and frustration while becoming a more empowered and educated advocate for your family's health, don't forget to grab the free label-reading training here.
Emma Rohmann
---